We Have Convenient Locations Across Texas
Find a Location Near You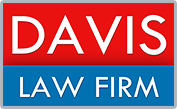 Why Choose the Davis Law Firm?
100% FREE
Initial Consultations

We will take the time to discuss your case and decide what the best course of action is to collect for your damages.
NO FEES*
Unless We Win

Seeking justice shouldn't come with a risk. At the Davis Law Firm, you don't pay attorney fees unless we win your injury case.
FRIENDLY HELP
and Guidance

Our attorneys and staff are here to help. We understand your frustration and work very hard to solve your problems.
* applies to personal injury cases only